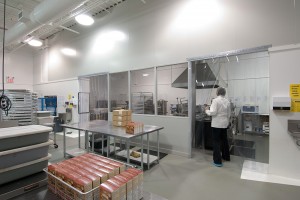 Case History Example:
Cocomira
Toronto, Ontario
Canada
Problem:
Preparing gourmet toffee in the food industry is not for everyone. Because it generates so much heat many won't even attempt it. To manage the heat in their facility, Anna Janes, founder of Cocomira, needed to section off the kitchen from the production area.
Solution: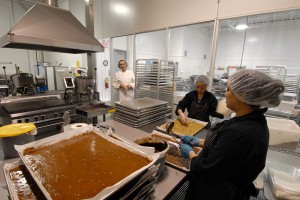 Working closely with ProPart Modular to find a solution, Anna quickly realized the benefits of SYSTEM 40™ clean room partitions. A 35 foot long, 16 foot high partition was constructed using standard System 40™ office components. The entire installation was done on site quickly using non-shedding System 40™ Steel partitions with their smooth, clean, low maintenance finish. Six foot strip vinyl curtains allow containment of the heat during the summer months. Alternatively, during the winter months opening the curtains during the cooking phase assists in heating the production area – reducing costs.
"The new partition is working well and we are very happy with the solution provided by ProPart Modular", says Anna Janes. "I would gladly recommend ProPart Modulars services to friends and colleagues in the future."
System 40™ assembles faster and cleaner than conventional construction. This means less mess and downtime, quicker project turnaround and less business interruption. Panels are easily modified on site to suit even the most critical dimension. Virtually any layout is possible. Combine door, window and wall panels to meet your current needs, knowing that you have the flexibility to expand or relocate in the future.
PProPart Modular welcomes the opportunity to solve your unique modular space requirements. With each project we improve and develop our product offering with an exacting attention to detail. With custom applications we do the work that others can't.
Flexibility and convenience makes all of ProPart's product offerings the ideal space management choice. To request a quotation on how your next building project might benefit by using our unique line of modular space solutions, please feel free to contact us directly at sales@pro-part.com™