Transforming
Through Innovation
With over 40 years of modular experience, we strive to solve problems with solutions that give flexibility for tomorrow.
We specialize in the design, manufacturing and installation of office partitions/ interiors, industrial in plant solutions, controlled environments and pre-fabricated buildings.
With an equal emphasis on corporate environmental responsibility, we now make a similar commitment to ensuring that we only use products that are environmentally friendly. In addition to our commitment to going green, we have worked on a multitude of ground breaking projects using our System 40™ applications.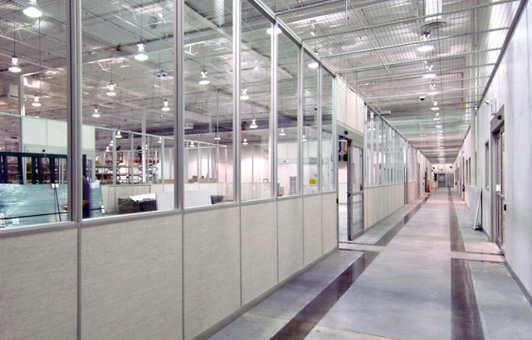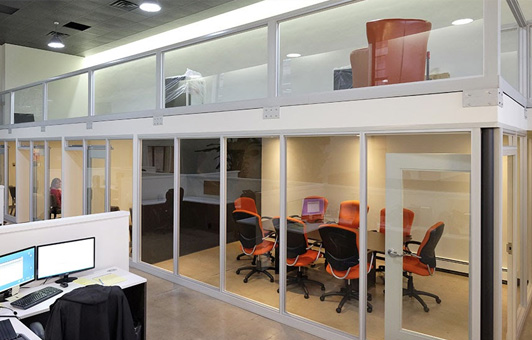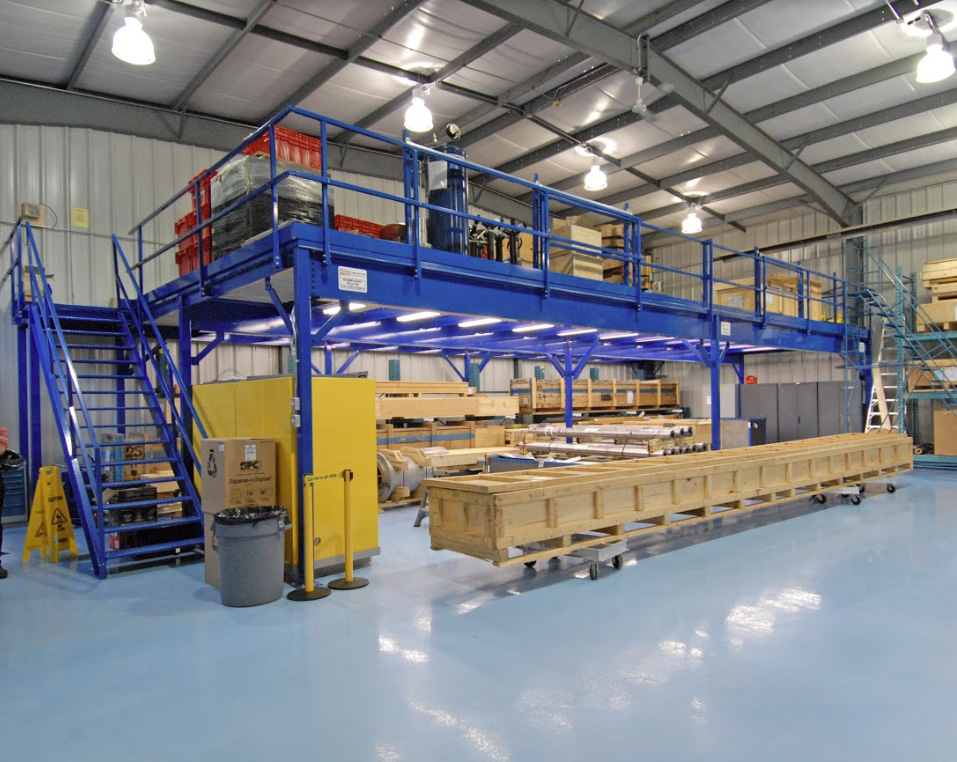 About Us
We have specialized in the design, manufacture and installation of custom office partitions/interiors, industrial in plant solutions, controlled environments and prefabricated buildings.
10-Year Guarantee
Cleanroom ISO Classifications
cGMP Compliant
40% Faster Completion
Cost Effective
Support For Both Canada & US
Ontario Made Certified
Ryan Frankland, President/CEO, ProPart Modular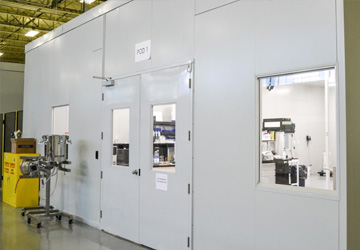 From the beginning the fully demountable and reusable System 40™ has been used in a wide range of commercial and industrial applications which include controlled environments. Its first clean room was installed for Litton Systems in 1994 and ProPart Modular has since completed clean rooms in pharmaceutical, high-tech, cannabis and among many other applications.
Learn More.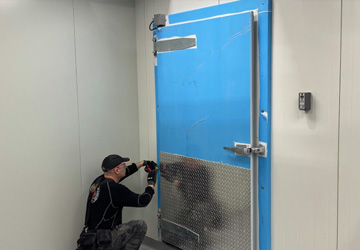 System 40™ was originally created in 1969 by Westeel-Rosco Limited as a modular partition wall system. In 1977 Westeel-Rosco sold the system to FLEXCON, who changed the tradename to SPACEFLEX. Provincial Partitions, now operating as ProPart Modular was founded in 1981 and acquired the patent from FLEXCON and subsequently changed the name to System 40™.
Learn More.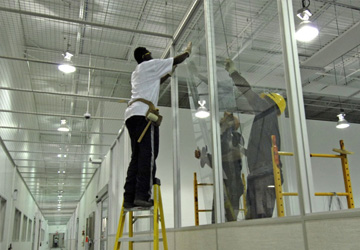 Flexibility and convenience with the ease of modular construction. Assembly is accomplished without mechanical fasteners and all panels are interchangeable. Panels are easily modified on site to suit even the most critical dimension. Virtually any layout is possible. Faster and cleaner than conventional construction means less mess and downtime, quicker project turnaround and results in less business interruption.
Learn More.

We wish to thank you for the prompt assistance you gave the Ministry of Government Services in the construction of the metal partitions at Central Laboratory for the Ministry of Health. It was not only the installing of the partition that was appreciated but coming up with a Metal Partition to suite the existing one which was discontinued. The Ministry looks forward to your co-operation and assistance in the future. 
Kim McMillan
Ontario Ministry of Government Services

I'd just like to pass on my gratitude for all fo your help and hard work over the course of the past few months. Your assistance and input into the current expansion of Pro-Lab's head office has been instrumental. Specifically, I and my team really appreciate your quick follow up to our numerous questions. You have shown patience with us as we attempt to determine how best the new areas should be set up as we move forward and have been responsive to all our needs thus far.
Karim Hirji
Pro Lab Diagnostics

Our joint project of installing approximately 300ft. of packaging line, free standing, divider partitions is now successfully completed. We are extremely happy with our partitions, and we wish to thank you for outstanding service before the sale, during and after the installation. Your company had a thoroughly professional attitude and a superior product.
B.D. Brandt
Searle

This letter is to thank Provincial Partitions for a job well done, regarding the construction of a 20'x20' office complex inside the LCBO London Retail Service Centre. I would say that the contractors and office staff of Provincial Partitions hired to complete this project were very professional and experienced in the building of this 2 storey complex. And would like to give my support to Provincial Partitions for other projects in the future.
Brian Ted Orr
LCBO

I would like to take this opportunity to thank you very much for the exceptional response and service provided. Nestle Purina Petcare and Provincial Partitions have done business together over the past two decades. Both you and your staff have exceeded our expectations. I believe you have excellent service orientation skills and the desire to help and serve one's customers in the best possible way
Jenny Anand
Nestle Purina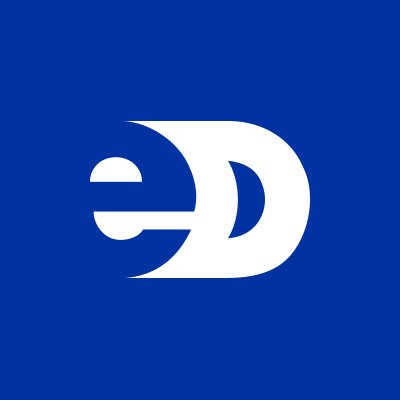 This letter is written as recognition of the System 40 Modular Partitions that we assembled on a recent EllisDon project in Ottawa, Ontario. This project was an 8000 ft2 series of multiple cleanrooms, chases and door and window configurations. The overall material we used were very robust with beautiful and durable finishes. The installation we did along with the floor plan layout drawings you provided went together great and the components made the installation a snap overall. All the components were delivered clean, without damage and on schedule as we required them. The System 40 Modular Partitions are a very versatile and cost effective system to construct clean rooms and I highly recommend them on EllisDon future projects or any other project in fact. Appreciate all the support of the past months and look forward to another successful installation in the future.
Don Ellis C.Tech
EllisDon