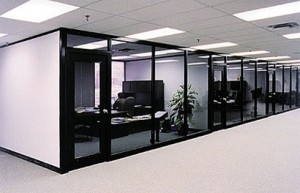 Case History Example:
Surface Mount Technology Centre
Markham, Ontario
Problem:
When the Surface Mount Technology Centre recently expanded their facility in Markham they also needed to accommodate an increase in office staff. An office environment was required that was both functional and suitable for the company's executives.
Solution:
After considering many options, they felt that ProPart Modular could provide the most aesthetically pleasing product with cost effectiveness in mind. The end result is a fully glazed tinted partition wall. This enables the executives to have the privacy they need, and with the incorporation of the tinted glass they are still in touch with their team members. "I also like the fact that natural light can enter throughout the rest of the office," says SMT's president Paul Walker.
To request a quotation on how your next building project might benefit by using our unique line of modular space solutions, please feel free to contact us directly at sales@pro-part.com