Case History: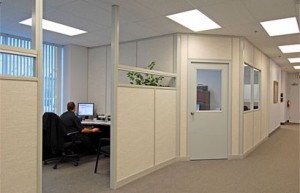 DCR Systems Group Inc.
Markham, Ontario
Problem:
DCR Systems Group Inc. required additional office space in their rapidly expanding warehousing facility in Richmond Hill. They needed a combined closed and open office structure with plenty of flexibility. Pictured above is a System 40 installation that provided both the open and private enclosed offices they required.
Solution:
After considering many options, DCR Systems felt that ProPart Modular patented System 40™ provided the perfect solution. ProPart's System 40™ office partitions were easily and quickly installed with little disruption to ongoing work. The premanufactured panels assembled easily without any drywall dust on site. The client was extremely pleased with the attractive look and feel of their new offices and were equally impressed with the ease and speed of installation. Panels were easily modified on site to suit even the most critical dimension. Virtually any layout was possible. DCR combined door, window and wall panels to meet their needs exactly. Additionally, the minimal number of system parts required for System 40 structures means easy disassembly, replacement or storage if required in the future.
Flexibility and convenience with the ease of modular 'Plug-and-Play' makes our patented System 40™ the ideal space management choice. To request a quotation on how your next building project might benefit by using our unique line of modular space solutions, please feel free to contact us directly at sales@pro-part.com