Pioneer Family Pools have been helping customers with all their backyard needs for over 50 years. When the pool experts required a new space for employees in their warehouse that could easily be relocated, they turned to modular experts ProPart Modular.

ProPart Modular was thrilled to work with the local business and display their award-winning modular solutions. Using the eco-friendly System 40™ and ProWall roof panels, ProPart Modular designed a 15' x 15' shipping and receiving office that provided the flexibility to reuse all materials and save on future costs. The office was then connected to an existing wall to further save on costs and included a sliding window to allow for ease of paperwork handling and safeguard employees.

One of the key benefits of System 40™ is its ability to be installed 40% faster than traditional methods and Pioneer Family Pools received their new office over a weekend with only 1 week's notice. By Monday morning, they had a safe, organized, comfortable, and clean space to operate. Should they decide to move in the future, the office can easily move with them. Once again, Ontario Made delivers.

Speaking on the project, Pioneer Family Pools' Jay Pritchard offered:

"When we approached ProPart, we had an idea of what we wanted. They quickly gave us a design, we approved it, and they installed the office over the weekend, electrical and all. When we arrived to work Monday morning, we had a new full functioning office in our warehouse. We strongly recommend ProPart to everyone."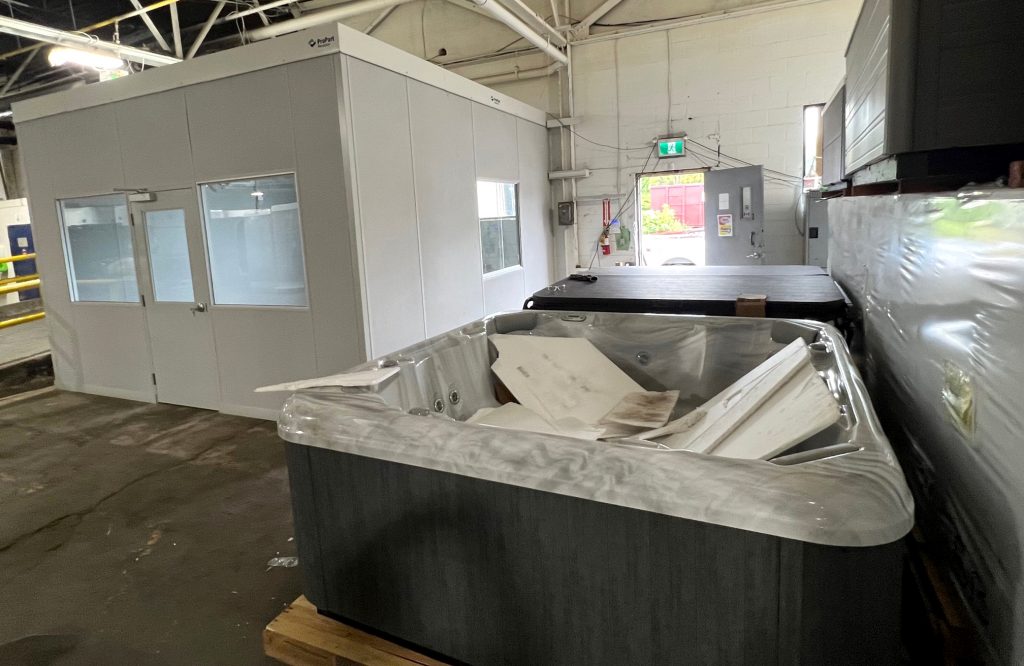 System 40™ assembles faster and cleaner than conventional construction. This means less mess and downtime, quicker project turnaround and less business interruption. Panels are easily modified on-site to suit even the most critical dimension. Virtually any layout is possible. Combine door, window and wall panels to meet your current needs, knowing that you have the flexibility to expand or relocate in the future. Additionally, using prefabricated structures can reduce construction time by as much as 40 percent.
ProPart Modular welcomes the opportunity to solve your unique modular space requirements. With each project, we improve and develop our product offering with exacting attention to detail. With custom applications, we do the work that others can't.Flexibility and convenience make ProPart Modular solutions the ideal space management choice. If you would like to know more about our unique 'solutions-oriented' approach to modular structures using our mezzanine product line, please feel free to contact us directly at sales@pro-part.com.