Case History Example: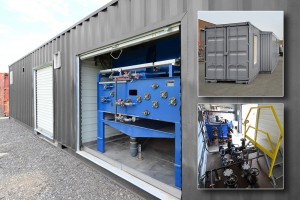 Napier-Reid
Markham, Ontario
Problem:
Loyal customer Napier-Reid, a leading engineering designer, manufacturer and solution provider for the water and wastewater treatment industry, turned to ProPart Modular to provide additional water treatment enclosures for their international clientele using our proprietary Proflex® enclosures. They had used our enclosures in the past, but required a larger footprint for their oversized equipment.
Solution:
Based on standard dimension shipping containers, each Proflex® enclosure was modified and expanded to accommodate the specialized equipment sizes. Typically, standard shipping containers are 8 feet by 40 feet, but these containers were custom modified, enlarged and expanded to a 9 foot 3-inch width.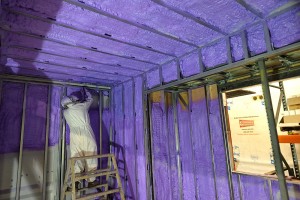 Spray foam insulation was included throughout to prevent condensation, and a removable roof-top cap was added allowing easy access to switch out filters used in the water treatment equipment. Each container was also modified to include two four-foot double doors, a man-door for easy access, HVAC, windows and mechanical tie-in for all utilities. Checker plate steel flooring and metal interior walls completed the interior. Eventual transport to Louisiana was easily facilitated because these modified shipping containers are designed primarily for shipping either by truck, rail or ocean.
Flexibility and convenience makes all ProPart Modular product offerings the ideal space management choice. At ProPart Modular we specialize in custom work. We do the work that others can't. To request a quotation on how your next building project might benefit by using our unique line of modular space solutions, please feel free to contact us directly at sales@pro-part.com