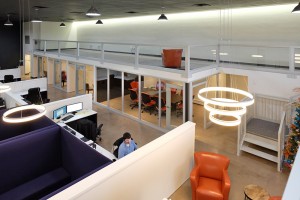 Case History Example:
Billyard Insurance Group
Welland, Ontario
Canada
Problem:
Billyard Insurance Group, a successful insurance brokerage firm located in Welland, Ontario, went through a massive re-branding recently to coincide with a move to a new facility. They took over ownership of an old bank building and wanted to completely renovate the interior to reflect the new corporate image. When approaching ProPart Modular to discuss the renovations, Sandy Billyard explained he wanted a high-end look to their new premises, but, at an affordable price.
Solution: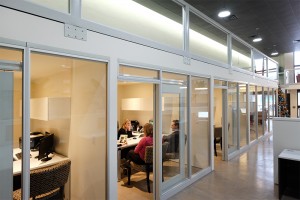 When Sandy saw what was possible with our proprietary System 40™ office partitions he gave ProPart Modular the go ahead to install an entirely new executive office complex. Using primarily standard components, this was easily accomplished due to the flexibility and convenience of ProPart's modular 'Plug-and-Play' System 40™ which assembles faster and cleaner than conventional construction.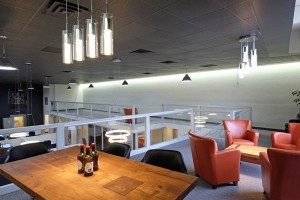 In total, three new enclosed offices measuring 10 x 11 feet with sliding doors, and one large executive conference room measuring 16 x 11 feet was completed. Additionally, wanting to make use of the expansive new interior space, it was decided to complete a terraced area above both the new offices and the reception area. The same tempered glass was used to create handrails around the entire perimeter of the second floor space. The section above the enclosed offices is allocated for future work stations. The area above reception is already finished and includes an open entertainment area complete with a bar, additional meeting space and modern AV technologies.
System 40™ assembles faster and cleaner than conventional construction. This means less mess and downtime, quicker project turnaround and less business interruption. Panels are easily modified on site to suit even the most critical dimension. Virtually any layout is possible. Combine door, window and wall panels to meet your current needs, knowing that you have the flexibility to expand or relocate in the future.
ProPart Modular welcomes the opportunity to solve your unique modular space requirements. With each project we improve and develop our product offering with an exacting attention to detail. With custom applications we do the work that others can't.
Flexibility and convenience makes all of ProPart's product offerings the ideal space management choice. To request a quotation on how your next building project might benefit by using our unique line of modular space solutions, please feel free to contact us directly at sales@pro-part.com