Case History Example: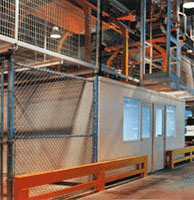 Ford Motor Company of Canada Limited
Oakville, Ontario, Canada
Problem:
Ontario Truck Plant re-tools for the launch of the all new F series trucks. Over two million square feet of manufacturing and assembly plant layout is to be completely reconfigured in only 30 days. There are a multitude of canteens, production offices, equipment enclosures and shipping/receiving offices which are obstructing the new layout.
Solution:
Ford's purchases of System 40™ partitions from as early as 1981 were all relocated utilizing all original components. For a minimal labour cost only, Ford was able to capitalize on their investment. Had Ford used conventional construction, they would have had no option but to demolish and rebuild. ProPart Modular was able to meet the tight schedule. Obviously, System 40™ time savings can be substantial compared to conventional construction.
Ford's investment in System 40™ has saved hundreds of thousands of dollars. Photograph and references made of FORD used with the permission of Ford Motor Company of Canada Limited, a licencee of the FORD trademark.
System 40™ is built to last. The pre-coated metal clad panels are easily cleaned, and highly resistant to impact, abrasion and chemicals. Low maintenance, durable vinyl gypsum panels are also available. All components are selected for long product life.
To request a quotation on how your next building project might benefit by using our unique line of modular space solutions, please feel free to contact us directly at sales@pro-part.com