Case History Example: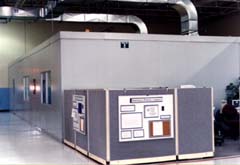 Brock Telecom Limited, Brockville, Ontario,Canada
Problem:
Brock Telecom needed office space on their manufacturing floor but couldn't afford the inconvenience of having contractors disrupt their day to day operations.
Solution:
ProPart Modular arrived on site on a Friday afternoon and had only the weekend to construct a 50'x 70′ inplant office facility complete with private offices, prefinished in and out with T-bar ceiling and electrics. ProPart Modular handed over the keys to Brock Telecom for Monday morning, ready to move in with no disruptions to Brock Telecom's operations.
To request a quotation on how your next building project might benefit by using our unique line of modular space solutions, please feel free to contact us directly at sales@pro-part.com