Case History Example: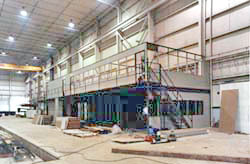 SKD Company
Milton, Ontario
Problem:
SKD Company retools to meet increased demand as a "right on time" supplier for the automotive industry. They are expecting delivery of new presses and need more production space. The new equipment has to be in place and operational by the time production staff returns from the holiday shut-down period.
Solution:
An area on the existing production floor can be made available by relocating an existing System 40™ modular inplant office complex to another area of the building. The two storey 24'x 75′ enclosure was originally constructed in 1988 and provides space for production management offices, quality assurance labs, engineering offices as well as a lunchroom,washroom and locker room facility. ProPart Modular is able to take down the entire complex including electrical, plumbing, HVAC and sprinkler system in time for the new equipment installation. The modular design of the System 40™ partitions and the bolt together construction of the Mezzanine Structure allows all existing components to be re-used and the two storey complex is quickly reinstalled in it's new location with as little disruption to personnel as possible.
For convenience and speed of response, preassembled offices from ProPart Modular offer a real alternative to standard construction. In most cases, your office can be operational the same day. Units are prefinished and include full electrical packages, ceiling system, insulation, doors and windows, flooring, interior wall finish and roof covering.
A two-story application from ProPart Modular is the perfect way to save valuable floor space while accommodating increased personnel or materials. We incorporate structural steel mezzanines within our partition system to allow an office upstairs and storage space below or virtually any set up you envision. Wall components assemble quickly without mechanical fasteners, making relocation or modification simple. Mezzanine offices are available with the full range of features offered in other System 40™ offices. Your choice of durable steel or low maintenance vinyl panels, a wide variety of window and door selections, full electrical packages and sound and temperature control options are tailored to your specific needs.
To request a quotation on how your next building project might benefit by using our unique line of modular space solutions, please feel free to contact us directly at sales@pro-part.com