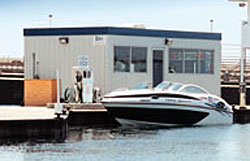 Case History Example:
Ontario Place Corporation
Toronto, Ontario
Problem:
In April, ProPart Modular was contacted by Ontario Place administration. Ontario Place, an internationally acclaimed cultural, leisure and entertainment parkland located on Toronto's waterfront, required a building suitable for a gas bar outlet and retail store to be located at their south marina – a turn-key project that would have to be operational in time for the park's opening at the end of May. The building would have to be designed to be re-locatable with consideration given to the park's limited vehicular access.
Solution:
ProPart Modular designed and constructed a 14'x 28′ building to accommodate a storage room, sales area and attendant area complete with counters and slot wall display paneling. Commercial grade ceramic tile flooring and durable vinyl wall covering were utilized to withstand the volume of customer traffic that was anticipated. The building was delivered complete with electrical system, heating and air conditioning. Although delivery would have been easier if the building was manufactured in two sections, Ontario Place wanted a minimum amount of site work, so this single unit was maneuvered through the park – a series of anchor points were incorporated into the sub floor to allow us to cantilever the building beyond the truck bed to clear trees on one side of the path and to be lifted over rocks on the other. The new gas bar was placed intact and operational at the water's edge.
To request a quotation on how your next building project might benefit by using our unique line of modular space solutions, please feel free to contact us directly at sales@pro-part.com