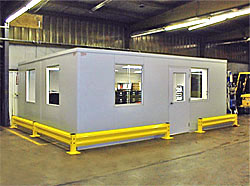 Case History:
Equipco
Bridgeville, Pennsylvania
Problem:
Equipco, the oldest Hyster forklift dealer in the United States and one of ProPart Modular's dealers, approached us to provide them with a much needed in plant office for their service department in their forklift service area. In January, Equipco had launched a dedicated Allied sales team to better service material handling needs of customers. The problem was that the sales team needed a noise-free work environment and sound transmission through the walls was a concern.
Solution:
With ProPart Modular's patented System 40™ walls, substantial sound reduction was achieved. With an STC rating of 44, our proprietary System 40™ proved to be just what Equipco required. In addition, we included a steel exterior for durability since the office was situated in a busy forklift service area. Equipco also requested that we include a smooth vinyl interior surface, which has the benefit of being easy to clean. Don Heberle at Equipco was very satisfied with the job: "ProPart Modular's factory installation crew did a great job and were very easy to work with." Much to the benefit of ProPart Modular, this new in plant office will also double as a showplace for customers interested in ProPart's offices.
To request a quotation on how your next building project might benefit by using our unique line of modular space solutions, please feel free to contact us directly at sales@pro-part.com