Case History Example: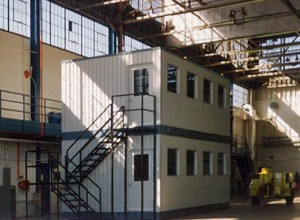 DeHavilland Air Craft
Ontario, Canada
Problem:
DeHavilland Air Craft required additional office space but could not utilize floor space due to required manufacturing space. DeHavilland did not want a unit constructed on site due to the interruptions to manufacturing in the immediate area.
Solution:
ProPart Modular designed and prefabricated a 2 story office complex to minimize floor space at DeHavilland. The building was constructed off site within 2 weeks, delivered to DeHavilland Aircraft and set up in only 2 1/2 hours.
For convenience and speed of response, preassembled offices from ProPart Modular offer a real alternative to standard construction. In most cases, your office can be operational the same day. Units are prefinished and include full electrical packages, ceiling system, insulation,doors and windows, flooring, interior wall finish and roof covering.
To request a quotation on how your next building project might benefit by using our unique line of modular space solutions, please feel free to contact us directly at sales@pro-part.com