Case History: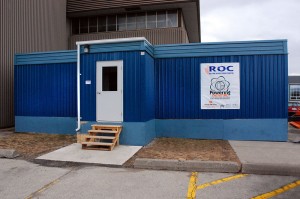 AECL
Mississauga, Ontario
Problem:
Portability was critical for AECL's modular space requirements. Needing to construct a remote control booth for a nuclear facility in New Brunswick, AECL needed a fully assembled double wide mobile trailer which could first be retrofitted with an extensive array of sophisticated computer hardware at AECL headquarters in Mississauga, then readied for eventual disassembly and transportation to New Brunswick.
Solution:
ProPart Modular designed, manufactured and delivered a fully transportable doublewide trailer on time and on budget! Eventually a crew from ProPart assisted in the teardown, transportation and reconstruction of the doublewide trailer when the units were finally shipped to the Nuclear Power Plant facility in New Brunswick.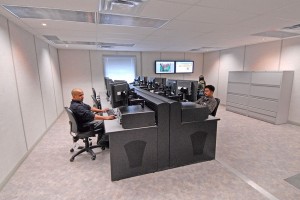 The control room (pictured at right) is outfitted with a bank of specialized sophisticated computers enabling the technicians to control all aspects of the Nuclear Reactors from this spacious remote modular office.
Whether it is for Nuclear Power Reactors or any other specialized mobile environments, ProPart Modular can design, manufacture and provide turn key solutions for your requirements that are adaptable to all your needs.
ProPart Modular has a series of wheeled portable units available. The trailers are available in both 10′ and 12′ widths (24′ wide when combined), and of any length up to 60′. The wheeled mobile offices, trailers and office complexes can be purchased or leased.
To request a quotation on how your next building project might benefit by using our unique line of modular space solutions, please feel free to contact us directly at sales@pro-part.com